By Lance Avery Morgan Photography courtesy of Hive & Colony
Sure, you can go to Savile Row in London. Or, you can have the same experience here in Texas. Dallas, to be exact. Getting a custom suit made by Hive & Colony Clothiers is an experience that goes beyond the ordinary and delves deeply into the realms of craftsmanship, luxury, and personalized style. Here's what it's like to embark on this sartorial journey – and you will want to do it again and again like Rob Giardinelli and I soon thought as we both embarked on this creative process of having new tuxedos made.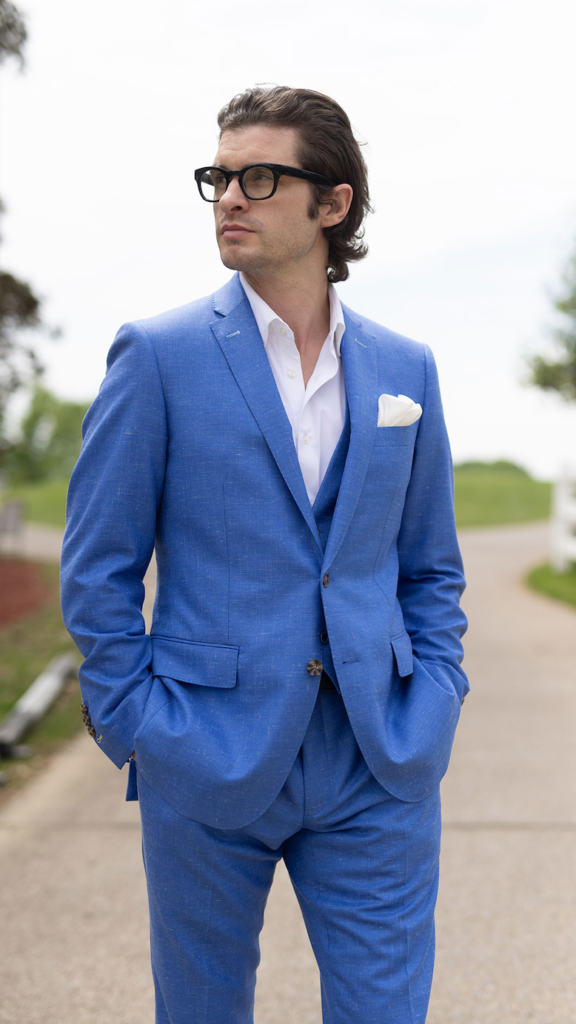 First, the consultation.
The journey begins with a scheduled appointment at the Hive & Colony showroom, an elegant space that exudes timeless sophistication in Dallas' NorthPark Center. The occasion for the new tuxedos was for the annual DIFFA Dallas gala where every iteration of black tie is seen in full regalia. If anyone has declared the Peacock Revolution over, then this event defies it. So, to match, and even, surpass the colorful expectations of attending DIFFA, Hive & Colony is the only place to go. As you step through the door, you are greeted by a knowledgeable and impeccably dressed customer service expert, who will be your guide throughout the process.
You'll want to have a personal style assessment done to begin exploring all your choices. The customer service experts at Hive & Colony take the time to understand your personal style, preferences, and lifestyle. They ask questions about your prior and current fashion choices, the occasions you plan to wear the suit for, and the image you want to project while wearing it. After all, his consultation is crucial in ensuring that the final suit reflects your unique personality and requirements. As the Hive & Colony expert Pablo Mendez shared with us, "Whatever you want, however you want it…we can make it happen because we want you to feel as special as the occasion that the suit is for."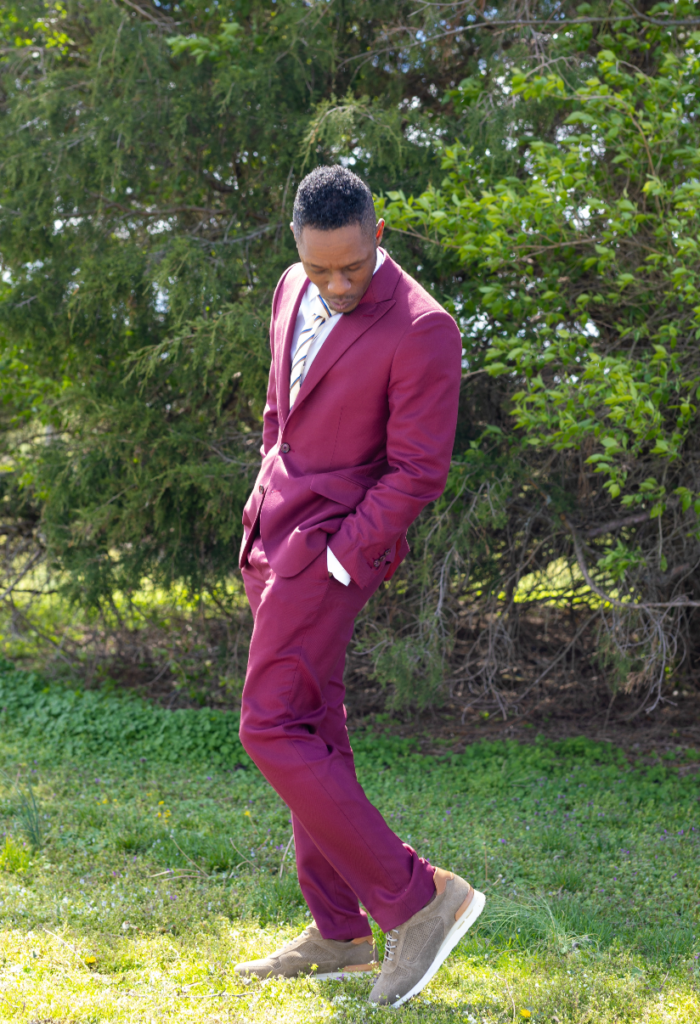 Then, the real fun begins.
The fabric selection is like a trip to a fabrication candy store. Hive & Colony boasts an extensive selection of the finest fabrics from around the world. Here, you are presented with a curated collection of luxurious materials, including sumptuous wool, silk, and cashmere blends. Each fabric is a work of art in itself, and you're encouraged to touch and feel the different textures and weights. The tailor provides expert advice to help you choose a fabric that complements your style and the purpose of the suit. Since the occasion we were shopping for was creative black tie, there were no boundaries to fabric selection, so I went with a sleek charcoal gray and Rob chose midnight blue. My guidepost in life is usually: What Would Cary Grant Wear?…and then I choose accordingly, as does Rob.
For custom measurement and fit, precision is paramount at Hive & Colony. The customer service expert takes a comprehensive set of measurements with a cool and futuristic 3D scanning method that Hive & Colony has developed, capturing every nuance of your body shape. They pay attention to details such as posture, shoulder slope, and arm length to ensure that the suit will fit you perfectly. These measurements are the foundation upon which your unique suit will be built. Plus, they are taken electronically with a computer program that Hive & Colony created, so it feels futuristic in a good way, to complement the good old-fashioned client servicing.
As you might expect, there are plenty of customization options at Hive & Colony.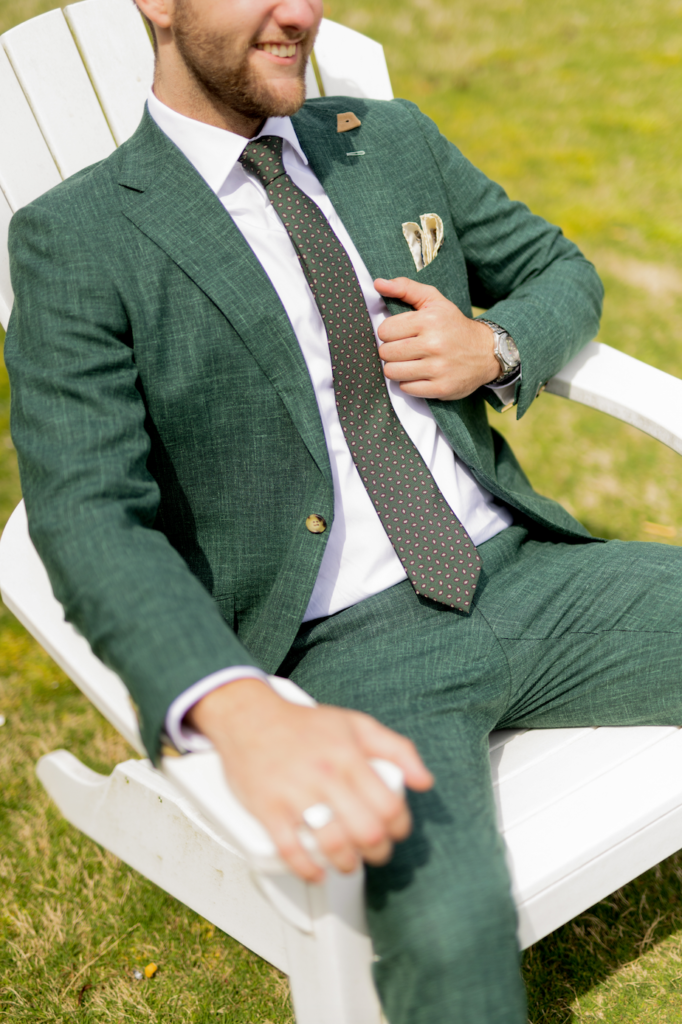 To us, the really exciting part was customizing the suit. You have the opportunity to make a myriad of choices, including lapel style, button configuration, pocket styles, and vents. Whether you prefer a classic two-button suit with notch lapels or a more contemporary three-piece with peak lapels, the customer service representative guides you through the options, helping you create a suit that's uniquely yours. With our classic tuxedos, they feel almost one-of-a-kind.
Beyond the exterior, the design details can be personalized in many ways…like the interior of your suit with options such as contrasting lining fabrics, monogramming, and even hidden pockets. These details add a touch of exclusivity and personality to your garment. Our favorite? A wildly cool print custom lining and matching pocket square. Talk about individualism.
Over the course of several fittings (about two to three, depending on how exacting you are), the skilled artisans at Hive & Colony meticulously craft your suit. The initial fitting allows you to see the suit in its early stages, ensuring that the fit and style align with your vision. Any necessary adjustments are made with expert precision, ensuring that the suit drapes perfectly on your body. And by perfect, we mean perfection.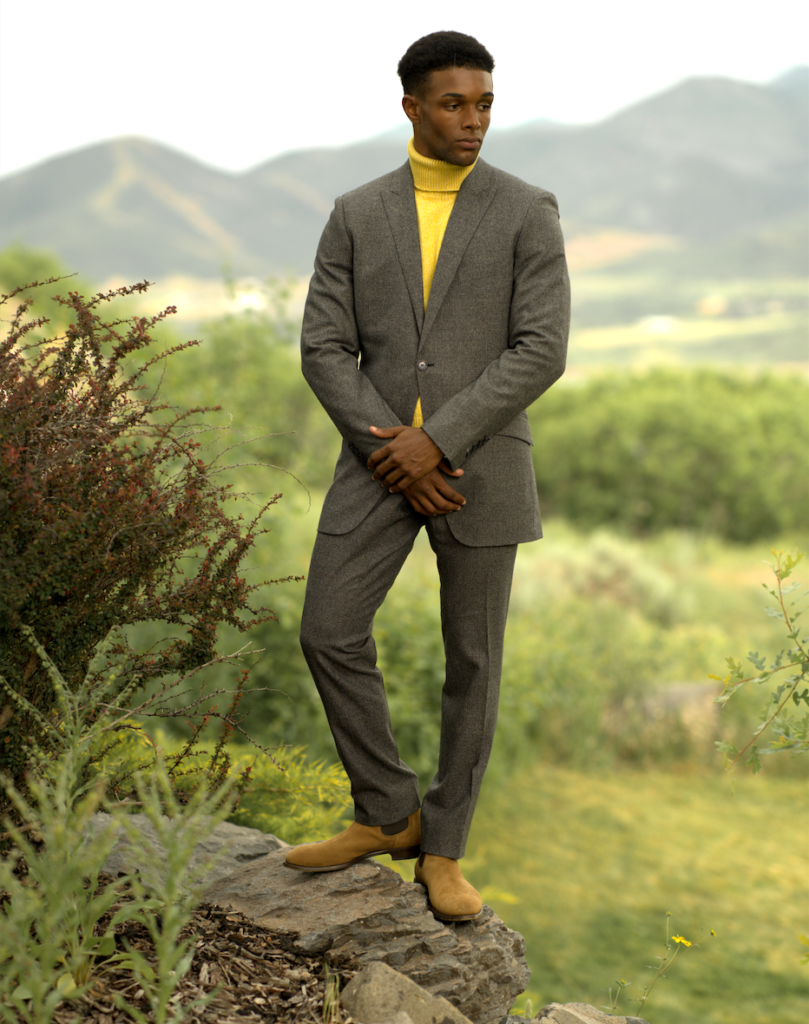 The moment of truth arrives when you return for the final fitting for the final reveal.
The suit is unveiled in all its glory by Hive & Colony, impeccably pressed and ready to be worn. As you step into it, you feel the transformative power of bespoke tailoring – a suit that is not just clothing but is also a reflection of your personality and aspirations.
The tailoring tips you learn during the process are also invaluable. Before leaving, the tailor imparts valuable advice on how to care for your custom suit to maintain its pristine condition. They will also suggest coordinating accessories and shirts that they sell to complete the ensemble so that you feel like a billion dollars from head to toe.
We have found that owning a Hive & Colony custom suit or tuxedo is a privilege that extends beyond the initial experience. "We want to make sure our clothes we create for you are as special as the occasion for which you want it," shares Pablo Mendez of Hive & Colony in Dallas. "It becomes a cherished part of your wardrobe, elevating your style and confidence on every occasion you wear it," he continues.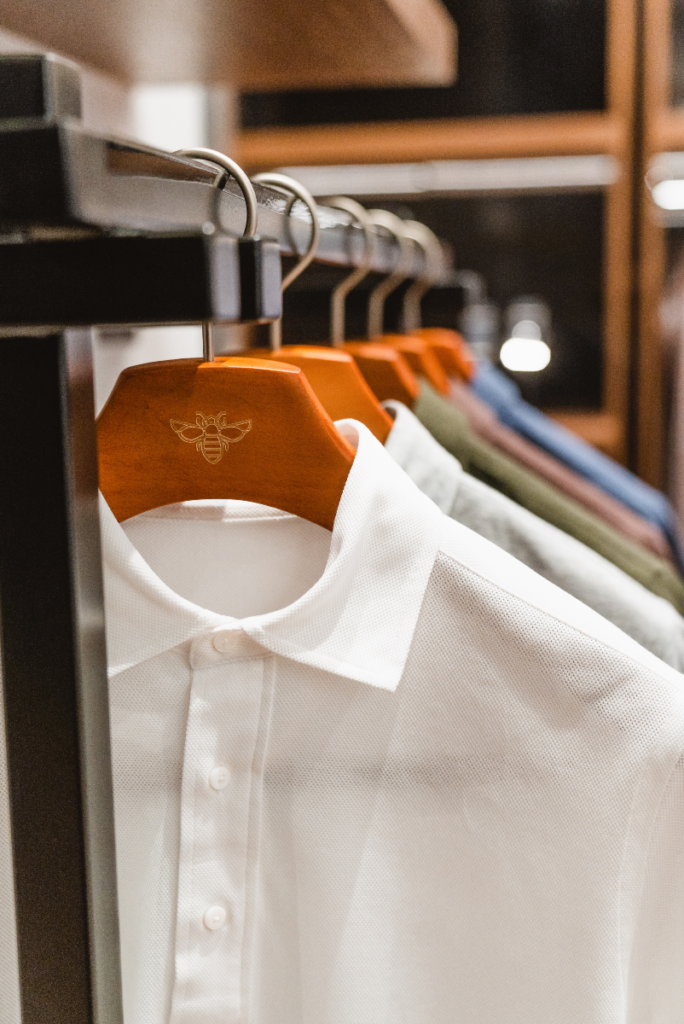 So, getting a custom suit made by Hive & Colony Clothiers is not merely a transaction; it's an immersive journey into the world of timeless elegance and self-expression. It's a testament to their artistry, craftsmanship, and attention to detail that defines this renowned clothier, resulting in a suit that embodies your own unique identity and style. Run, don't walk to Hive & Colony to create your favorite new suit now.