We're taking a deep dive into the heart of Texas and the world of electric vehicles with the 2023 Genesis GV60, as more manufacturers fight for EV buyers Genesis has stepped up its game offering luxury EVs that are perfect for zipping around a metroplex. During my week with this luxurious EV, I couldn't help but be impressed by its unique qualities and attention to detail. It isn't all that often that a show car comes into production and outside of the screens for side view mirrors (as seen in the press photos below) the GV60 is what was shown to journalists as a concept, even down to the "crystal ball" shifter.
Elegance Meets Electric Power
In the vast landscape of Texas, where everything is bigger and bolder, the Genesis GV60 is offering a lot of luxury in a small package. This ain't your run-of-the-mill EV; it's a true luxury ride that packs a punch (just hit the boost button). With its 429 horsepower (or 482 in boost mode) and 479 lb-ft of torque (516 in boost mode), it's ready to tear up the open roads of Texas, from the winding Hill Country backroads to the bustling city streets.
Craftsmanship
The Genesis GV60 showcases impeccable craftsmanship. Every detail, from the stitching on the seats to the placement of controls, punches well above its price point offering a luxurious experience for the driver and passengers. It's a vehicle that embraces the uniqueness of the EV market without trying too hard.
Convenience
The Genesis GV60 offers a range of features that make your journey as smooth as possible. Whether you prefer the ease of physical buttons, the intuitive touchscreen, or the modern flair of facial recognition and fingerprint scanning for entry and ignition, this vehicle caters to your every need and lets you use as much of the new tech as you like, it even still has a normal keyfob.
Sustainable Luxury
It's designed to offer a premium driving experience without compromising on sustainability the GV60 is the best of both worlds. With sustainable materials like plant-based leather and recycled plastics, it's a nod to our commitment to preserving the natural beauty of our beloved Texas. But hit that boost button and you can rip up a back road and escape the city in a flash.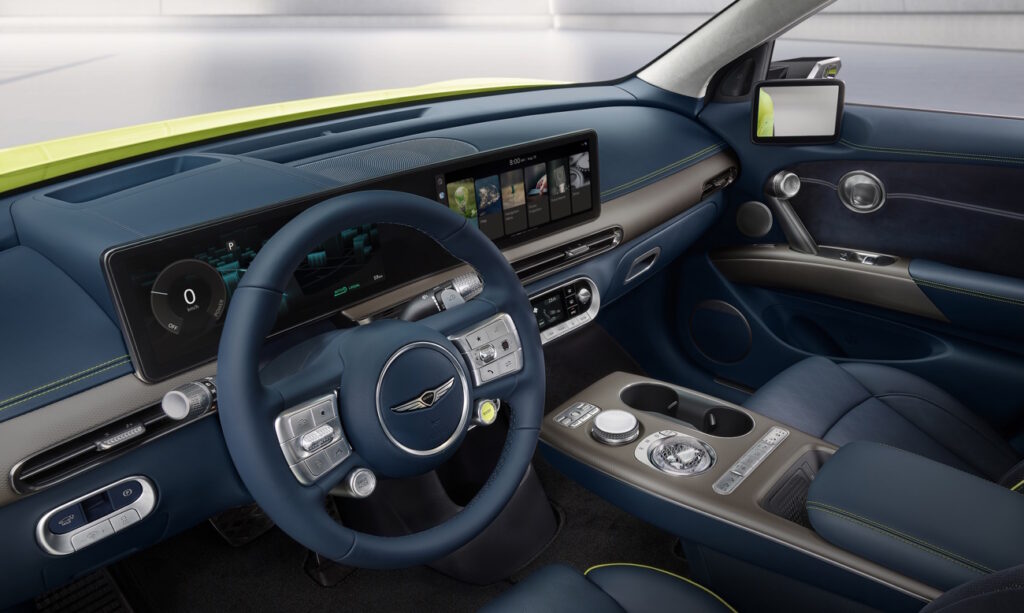 Charging Up for the Texas Trail
While the Genesis GV60 is a Texan marvel, it's essential to consider its range for those who roam the vast stretches of our great state. With a range of approximately 235 miles, it's well-suited for city slickers, but for those tackling long stretches of highway in the heart of Texas, charging infrastructure might be a concern. However, with fast charging support and the growing number of charging stations, this might not be as much of a concern in years to come.
The 2023 Genesis GV60 is a remarkable luxury EV that excels in design, technology, and performance. It offers a truly unique and captivating driving experience. However, for those outside major cities, it may function best as a second vehicle due to the potential challenges associated with charging in more rural areas. Nevertheless, if you're looking for an electric vehicle that makes a statement and delivers a truly special experience, the Genesis GV60 is an excellent choice.