Texas Independence Day Dinner, Honoring Admiral William H. McRaven and Cowboys Hero Roger Staubach, Breaks Fundraising Record
By Rob Giardinelli Photography by Buster Jetter and Thao Nguyen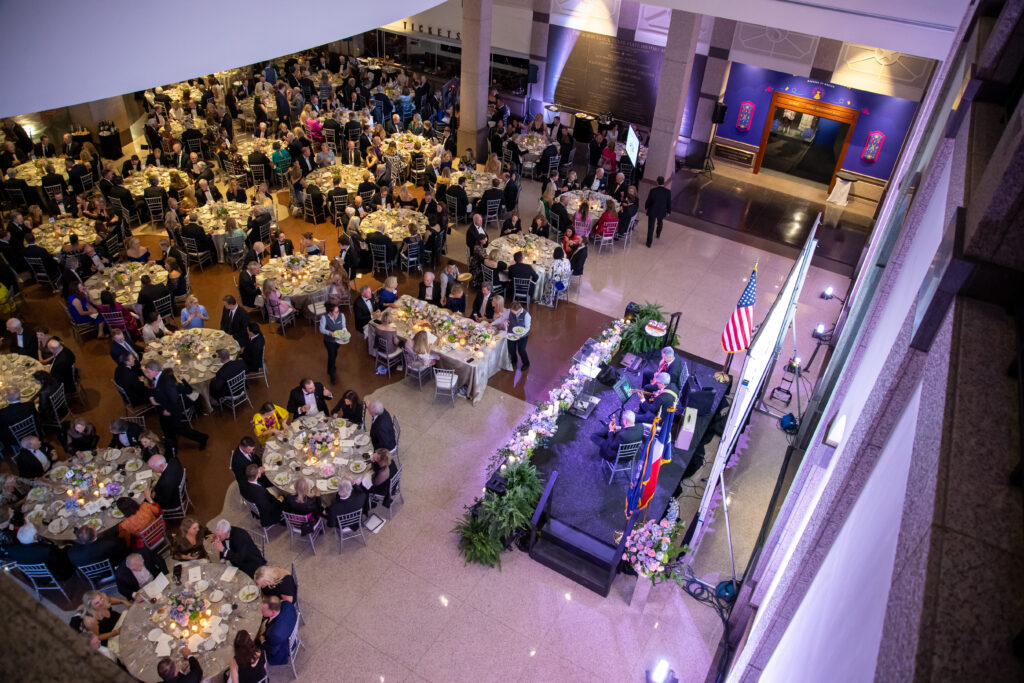 THE SCENE: The Bullock Texas State History Museum in Austin was recently the setting for a special evening that honored two Texas icons. In fact, over 500 of the state's most notable philanthropists, sociables and business leaders turned out for the nineteenth annual Texas Independence Day Dinner. Hosted by the Texas State History Museum Foundation, the evening featured an evening off great fun, touching tributes and honoring two legendary Texans, Admiral William H. McRaven and Dallas Cowboys legend Roger Staubach with the History Making Texan Award.
THE VIBE: The black tie crowd could feel the magic as they walked along the newly re-imagined grounds of the museum, where patrons posed for photos against the backdrop of the iconic Star of Texas outside of the venue. Upon walking in the front door of the museum's main rotunda, the partygoers were wowed as they were treated to two live, bronzed statues featuring each of the honorees. It was the first of several nods and personal touches to the guests of honor. Guests then ascended the grand staircase to the mezzanine level of the museum for a lively VIP cocktail hour where attendees sipped on their favorite spirits while mingling with the honorees.
The action then moved back to the main floor as guests found their seats for the main program and dinner. Against the backdrop of a stunning white and pink floral color palette, the program began with the recitation of both the United States and Texas pledges of allegiance. After welcoming remarks from organization leaders, attendees dined on a delectable multi-course meal that was capped off with a decadent dessert plate featuring favorite desserts of the two honorees. Then came the highlight of the evening, the presentation of the History Making Texan Awards. Each presentation included touching video and in-person tributes, a presentation of the medal to each recipient, and was capped by words from Admiral McCraven and Mr. Staubach. After the tributes, the dinner concluded though many stayed to mingle long after the dinner. As guests left for the evening, they were provided with sweet treats courtesy of Austin chocolatier, Intero.
THE NON PROFIT: The event, chaired by Lisa Cooley of Dallas, with Jan Felts Bullock of Austin serving as honorary chair, raised over $1.1 million for The Bullock Texas State History Museum. Proceeds raised from the event will go toward funding educational program and special projects at the museum. Since opening in 2001, the museum has had over nine million visitors, including over 1.2 million school-aged children who have learned about Texas history through award-winning exhibitions, innovative educational experiences, and interactive media experiences. For more information about the museum visit thestoryoftexas.com and for more information about how to support the Texas State History Museum Foundation visit tshmf.org.