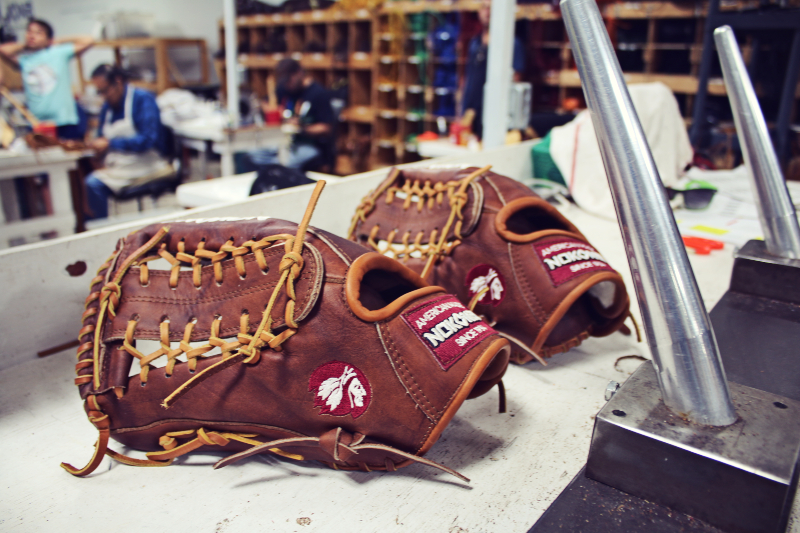 Founded by the Storey family in 1926 as the Nocona Leather Goods Company, the leatherworks got its start making belts, wallets, and other fashion goods. They wouldn't begin producing baseball gloves until 1934 after Bob Storey returned to take over the family business, a former Rice University baseball player, Bob knew there was room for improvement in the baseball glove designs of the day. Within 6 years the company was only producing leather sporting goods, including leather footballs, helmets, baseball gloves, and padding.
One of the most common questions that the employees get is about the spelling of Nokona vs the name of the city Nocona. According to Rob Storey, Nokona's executive vice president, the Nokona baseball glove was trademarked with a "k" because the United States Patent and Trademark Office would not allow the name of an incorporated town to be registered as a trademark for a product. So his grandfather registered it with a "k" and it has been that way ever since.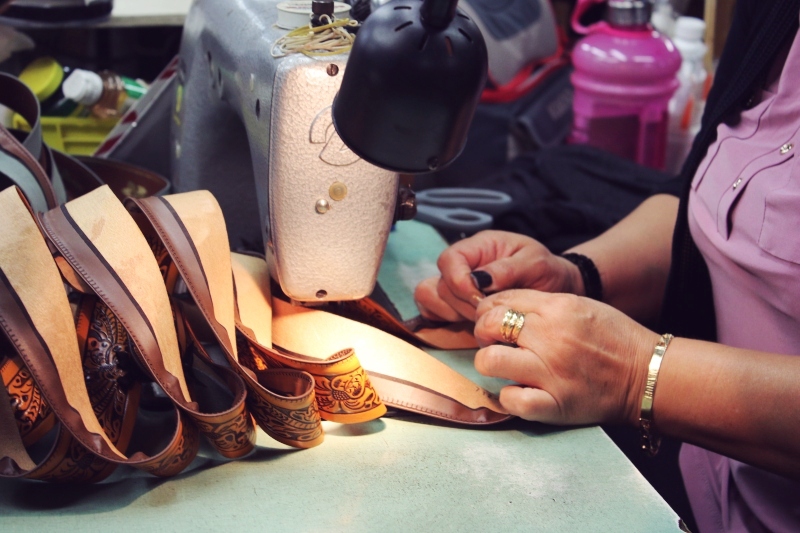 In the 1960s when other manufacturers started moving production overseas, first to Japan, then later to China, the Storey family refused to move production making every glove in Nocona, Texas to this day, just a few miles from the original factory that was founded nearly 100 years ago. That kind of loyalty to the people of Nocona has paid off, as employees tend to stay with the company, it was not uncommon to meet an employee who had been with the firm for 20, 30, and even 50 years.
The attention to detail and quality has made Nokona the glove of choice for some of the biggest names in professional baseball, including Todd Walker, Jorge Sosa, Jeff Fulchino, and MLB Hall of Fame legend Nolan Ryan. Today professionals like Cody Anderson, Scott Barlow, Steven Brault, Austin Brice, Blaine Hardy, Tim Mayza, Addison Reed, and many others take the field wearing a Nokona glove. Some pass on lucrative sponsorship deals with other manufacturers so they can keep using their Nokona glove of choice.
When Hollywood needs to make a baseball movie they come to Nokona, with major motion pictures like Field of Dreams, A League of Their Own, and 42, all using Nokona to make sure they had period-correct baseball gloves. With all of their original patterns, the team at Nokona can reproduce gloves from almost any point in baseball history.
In addition to reproducing historic gloves for the film industry, Nokona also restores, repairs, and replaces, gloves from any period of their production. From restoring grandpa's original glove as an heirloom to keeping an already well-broken-in glove performing at its best, the team at Nokona takes great pride in every glove they produce and repair.
While the bulk of the gloves that Nokona produces are for major retailers like Dick's Sporting Goods and Academy Sports which range between $250-$400, they still get hundreds of orders every year for custom gloves that can include anything from wild color combinations to exotic leathers, with some one-of-a-kind gloves costing thousands of dollars.
If you would like to take your own tour of the Nokona factory, a public tour is offered Monday & Friday at 10:30 AM and 1:30 PM with a price of $12 for adults, $6 for students, and $3 for children. For more on Nokona and its current products or to plan your own visit check out Nokona.com.