A few years ago, Lexus brought us the current-generation NX. It was a big step in terms of luxury, design, technology, and powertrain. I've driven a regular NX350 with a turbocharged inline-four and enjoyed it. Since this is a Toyota-owned company, the NX can also be had with a hybrid engine. In the past, I found that the hybrid might not be the way to go. Sure, you get better fuel economy, but the acceleration and noise penalties spoiled it. Is that the same with the NX 350h in Luxury trim with AWD? Let's find out…
Guess what? It looks the same as the regular NX. That's good because the NX is a handsome crossover. If you're not a fan of large grills look away because the NX has quite the snoz. The front isn't the NX's best angle. I prefer the side profile with this NX in Redline red paint and optional 20-inch wheels. You'll see body cladding on the wheel arches to make it look tougher. Lexus is spelled out on the electric tailgate under a full-length light bar. It looks like Lexus tried to put in fake vents which is weird for a hybrid. Still, it's a handsome SUV.
Moving inside, the NX350h Luxury has all the bells and whistles. In front of the driver is the usual steering wheel with controls for the infotainment, head-up display, and adaptive cruise control. There are paddle shifters but they were never used. The main digital dials are easy to see but I mainly used the large head-up display. I'm a fan of Lexus' 14-inch infotainment system. It's very easy to use, has Apple CarPlay and Android Auto, and shows the flow of energy in hybrid models. Although climate controls are on the infotainment system, they are static and easy to use, especially with two rotary dials.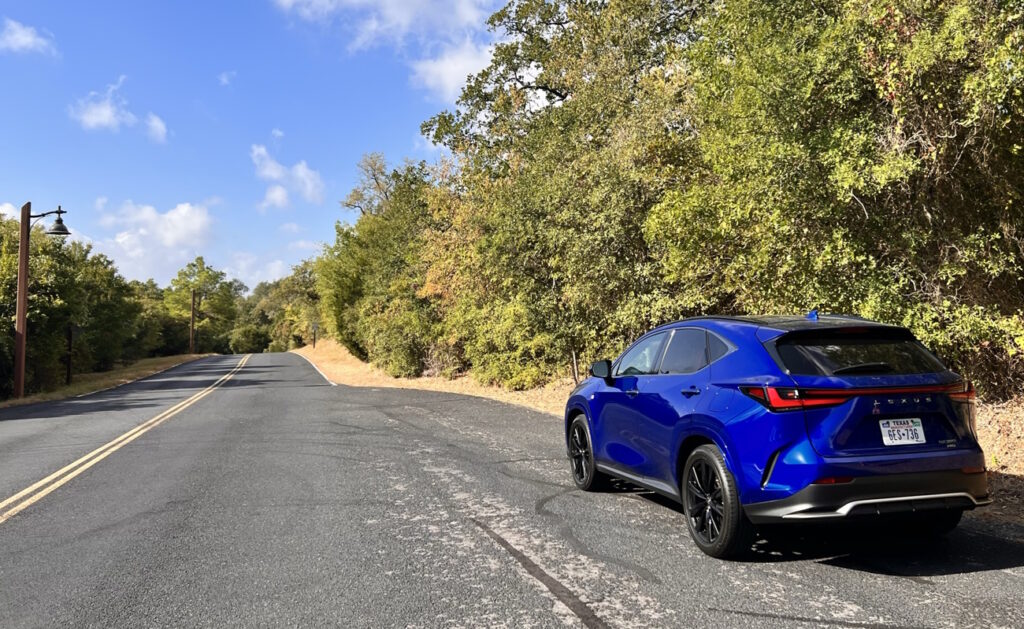 Brown seats with black open-pore wood trim were a great combination to contrast the red paint. Seats are very comfortable since these aren't the heavily bolstered F-Sport seats. They are heated and cooled and you get an electrically-operated heated steering wheel. There is a lot of piano black going on near the shifter and can scratch easily. Once you drive a Lexus model for the first time, you'll get used to the shifter's unique shift pattern. Rear passengers get heated power-folding seats. You can't have a Lexus without upgrading to their Mark Levinson sound system. I still think it's one of the best in the market since it is so crisp. An optional panoramic roof made the cabin feel more light and airy.
Since this has an "h" in the name, the NX350h has a hybrid 2.5-liter inline-four producing 240 horsepower/179 kW and 167 ft-lb/226 Nm. NX 350h Luxury AWD vehicles come with all-wheel-drive as standard, along with a CVT gearbox. This all gets the 350h from 0-60 MPH in around 7.1 seconds. When you are accelerating to 60 MPH, the engine can get quite loud. The gearbox is what you would find in most hybrid vehicles, but I'm still not a fan. There is a disconnect that spoils the drive. Still, you don't get this crossover for its driving dynamics. If you did, you'd be disappointed.
Instead, you get the NX350h for its over 35-MPG fuel economy and soft suspension. There are a few driving modes including Eco, Normal, Sport, and Sport S. Keep it in Normal. That's it. This is a comfortable crossover and simple to drive. Having the climate control functions static on the infotainment system means adjustment is easy. If you're having trouble using the rearview mirror, this NX350h has an optional digital mirror with high clarity. Safety features include adaptive cruise control, blind spot monitoring, lane change assist, optional 360-degree camera, and cross-traffic alert which is a little too alert.
This particular NX350h Luxury AWD had about $10,000 worth of options. A few of these included the $200 rear-view mirror, $1,020 Mark Levinson sound system, $1,070 panoramic view monitor with lane change assist and cross-traffic alert, and $1,030 for the power folding heated rear seats. Chuck in $1,300 for the wheels and extras, and the starting price of around $48,000 rose to around $58,000. That's still comparable with the competition. There's plenty of luxury, technology, and creature comforts and I would option an NX350h to the Luxury AWD spec.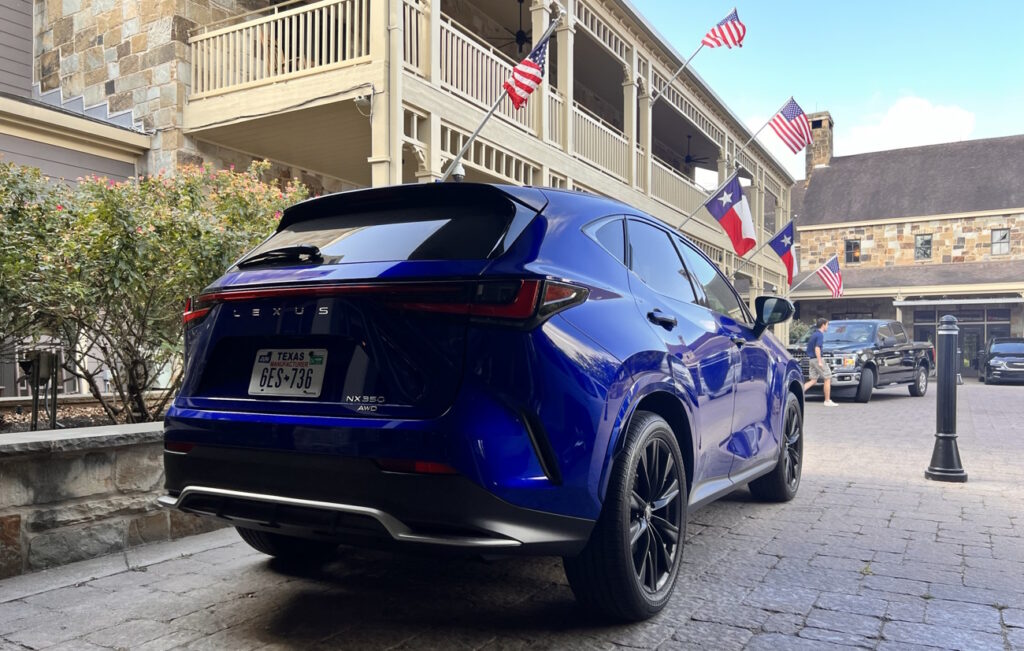 But should you go for the NX350h or the NX350 with the gas-powered engine? Normally, I would say "Yeah go with the gas-powered car it's faster and more fun"! In this case, go for the hybrid. The reason being, that you're not going to always floor it. When you do, the engine is loud but is tolerable. Over 35 MPG is a big selling point. The only thing I would change about this NX350h would be the colors. I love Lexus' red interior, but a red interior and exterior would look odd. Both the NX350 and NX350h are comfortable with a lot of tech. Just remember if you look at a Lexus, always go for the Mark Levinson sound system. When you add that to the NX350h, it makes the experience more pleasant, which is the point of the NX350h. If you want a luxury hybrid crossover, put the NX350h on your list.