Sporty convertibles? They don't sell well, usually don't have a lot of space, and might be considered a second car. For these reasons, they aren't the highest sellers. Even though they have their onslaught of SUVs, BMW has stuck to the recipe of a sporty convertible with the Z4. It's always been rear-wheel-drive, usually offering a manual transmission and excellent sporting credentials. For this generation, they returned to providing a soft top, rather than a hard top. Is the excitement still there with the Z4, even with this entry-level sDrive 30i and its inline-four?
At first glance, you wouldn't know the Z4 sDrive 30i is packing a turbocharged inline-four. It's a handsome car and bucks the trend of BMW's enormous grill. This Z4 was painted in my favorite BMW color, Portimao Blue, and had 19-inch wheels. You can tell this is a dainty little convertible, and the Z4 looks much better with a soft top than a hard top. At the rear, you'll see an aggressive-looking chin spoiler along with angular tail lights. The only real way you would know this is the sDrive 30i is in the badging. The full design is aggressive yet almost cute. Sorry BMW fanboys.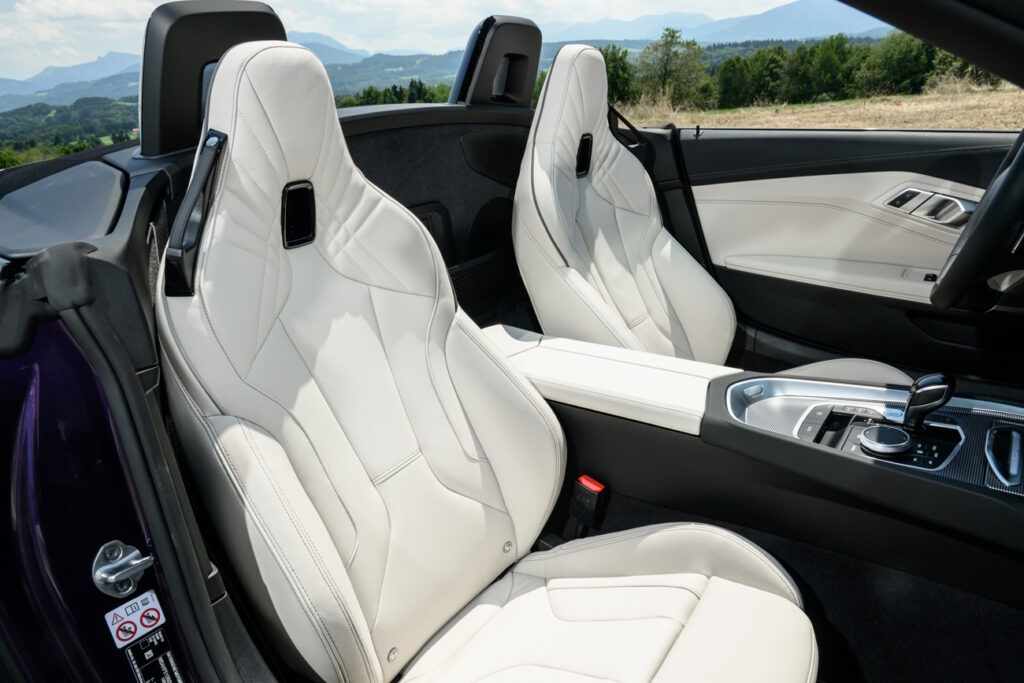 Falling into, I mean getting into the cockpit, the first thing you notice is how snug it is. This is a sporty convertible, so what do you expect? Cognac Vernasca leather adorned the comfortable heated seats. In front of the driver is a chunky heated M-Sport steering wheel with controls for the infotainment system, adaptive cruise control, and paddle shifters. The dials are digital, but there isn't a lot of customization to them. Since the Z4 is an older BMW, it gets its older infotainment system. It works just fine, but remember to get the software updated. I wasn't able to so I couldn't use Apple CarPlay. Don't worry, it does have Apple CarPlay and Android Auto. I was able to test the Harman Kardon sound system which sounds great and has some deep bass.
How about climate control features? The benefit of being an older BMW is the Z4 still has physical buttons for all of those features, along with…a CD changer! A single USB-a is in front of the shifter, as is the wireless charger. Using typical switchgear means the Z4 has the same shifter and button layout as other BMWs which makes things even easier. Next to the parking brake button is the switch for the convertible top. All you have to do is pull it up or down, and in no time at all, you have the wind in your hair! That's good because visibility with the convertible top-up is terrible. Looking for the cupholders? They're in the center console, not exactly the most ideal place. It's a comfortable interior, but taller folks may feel cramped.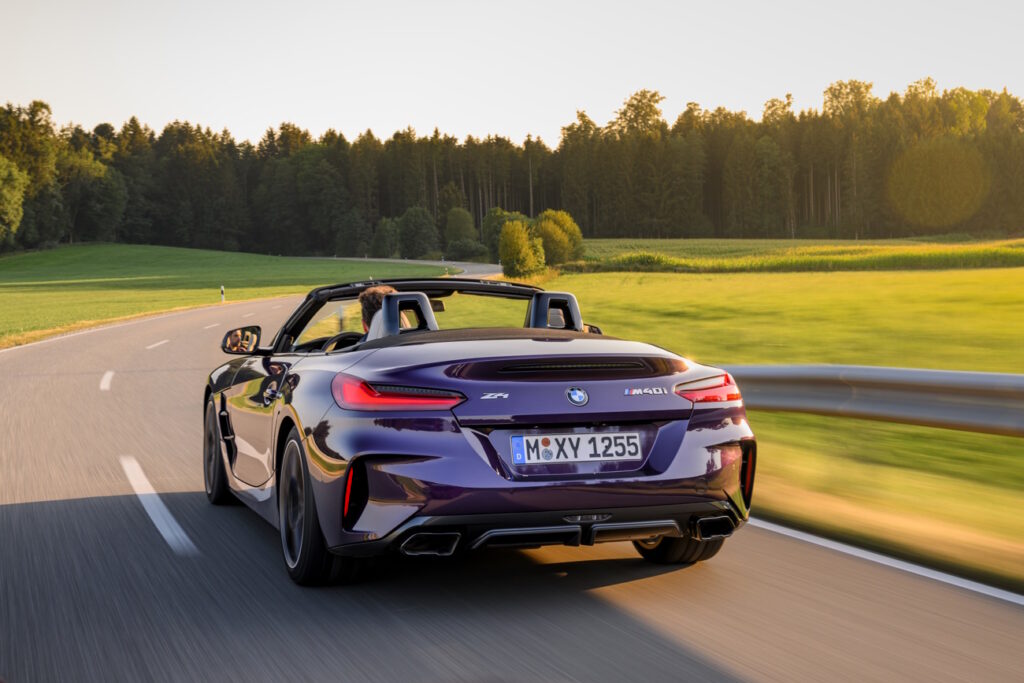 For the sDrive 30i, BMW gives the Z4 a 2.0-liter turbocharged inline-four, which produces 255 horsepower/190 kW and 295 lb-ft/394 Nm. For the #savethemanual fans, Z4s only come with an eight-speed automatic. Purists will be happy that Z4s are rear-wheel-drive only. With all of these combined, the Z4 gets from 0-60 MPH in 5.1 seconds. This is plenty of performance, and I never thought I needed the inline-six. With drive modes including Normal, Eco, and Sport, I was almost always in Sport since the Z4 is so fun to drive!
BMW hit the nail on the head with the handling. You look for curves in the Z4 just to feel how flat it is. Going over rough surfaces, the Z4 felt compliant. Remember that this is a convertible, and the top can be opened or closed up to 30 MPH. With the roof down, there wasn't a lot of wind noise. I'm glad that top-down driving on the highway is feasible, but this is a car built for every situation. At first, the brakes seemed a little too sensitive, and I had to modulate them so the Z4 didn't slam to a halt. Achieving 26 MPG is pretty good with a car designed to be pushed. It's a good thing this has BMW's safety systems because visibility with the roof up and the small door mirrors made lane-changing a little nerve-racking.
As an entry-level sDrive 30i, the Z4 starts at around $5,300. Standalone options included the $650 paint, $1,500 interior, $600 wheels, $875 sound system, and $500 for the wireless charger. Additionally, there were four packages. First is the Driving Assistance Package at $700. This gives you active driving assist, blind spot detection, and lane departure warning. Pony up $2,450 and you get the Dynamic Handling Package. This includes an M Sport Differential, Adaptive M Suspension, and M Sport Brakes. The Shadowline Package is $400 and gives you your side mirrors in black and extended Shadowline trim. Finally, the big Premium Package for $3,000 gives you goodies such as a heated steering wheel, lumbar support and heated seats, adaptive headlights, and parking assist. All in: around $65,000.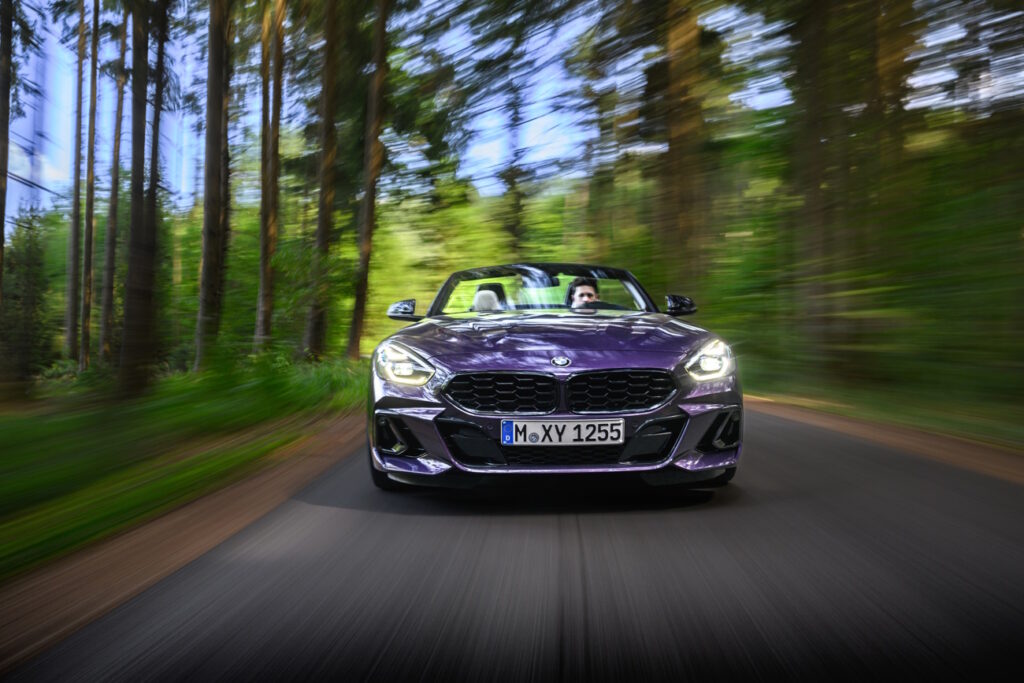 There will be comparisons between this, its platform-mate the Toyota GR Supra, and the Porsche 718 Boxster/Cayman. While I love the GR Supra, it's not as handsome as the Z4 and doesn't have its level of refinement. Sure, the Porsche twins will be even more sporty, but their base prices alone are almost $15-20,000 more than the base Z4. The question is…inline-four or inline-six? BMW's Z4 M40i starts at $67,000 but has 130 horsepower more and a 0-60 MPH time of 3.5 seconds. Honestly, I'd be fine with either. If you want more power, absolutely go for the M40i. The regular sDrive 30i will be more than enough for most drivers, and they will be quite happy with the roof down. It's an excitable sports convertible and should be on your shortlist of cars to drive.