I've been fortunate to embark on countless adventures, conquering diverse terrains from driving a Baja Challenge car through Mexico to navigating an old Toyota across Java. I even joined forces with the BMW GS Trophy team for some exhilarating off-road experiences on two wheels. But let me tell you, my recent three-day escapade in Moab with the CAM Mobility crew left me awe-struck and taught me more than I ever imagined.

For over two decades, Ken Cameron and his team have trained elite special forces and federal law enforcement agents in the art of off-road driving. Now, they're extending their top-tier training to the public, offering an unparalleled experience akin to what Navy SEALs and Army Rangers receive. These courses aren't your typical sessions on Baja-style racing or rock crawling. No, these are specially designed expeditions that challenge you and your vehicle to conquer the most extreme environments on Earth while ensuring your safe return.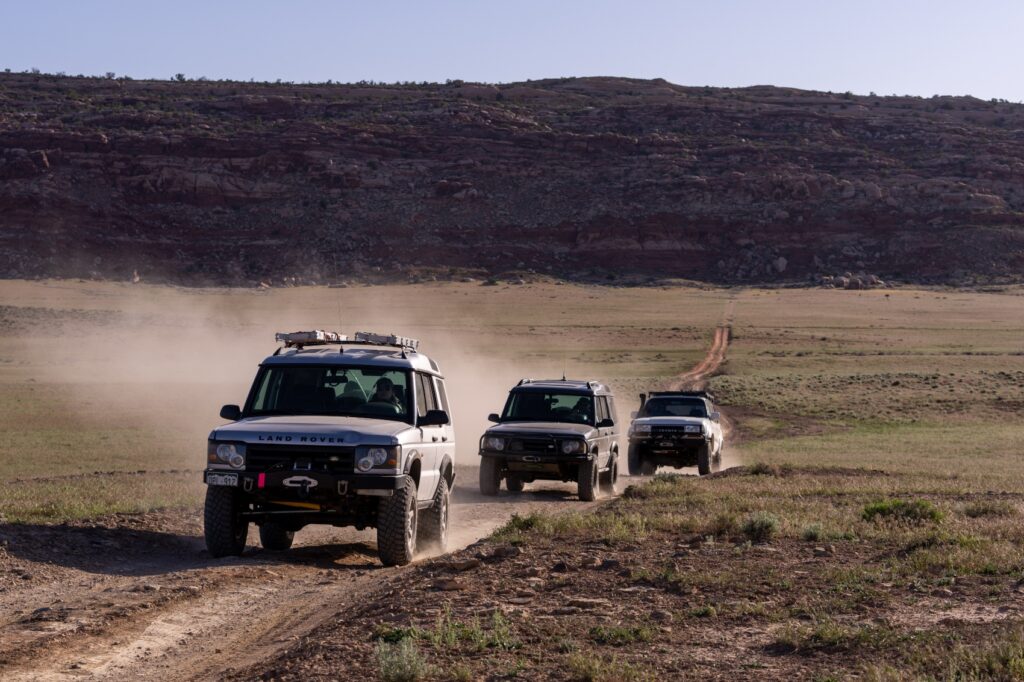 Our epic journey kicked off at a hotel parking lot in Grand Junction, Colorado. There, we familiarized ourselves with the vehicles we'd be driving: a few late '90s Land Rover Discovery IIs and a Range Rover Sport. These Discos were outfitted with winches, skid plates, and an impressive array of specialty tools and equipment. A trusty Toyota Land Cruiser also served as our support vehicle, hauling even more tools and gear, just in case.

Meanwhile, the rest of the CAM Mobility team hustled to our rendezvous point, setting up a basecamp that would be our final destination at the end of each day. This team reads like a who's who in the world of off-road adventure and military training. Leading the charge is the legendary Ken Cameron, CAM Mobility's founder. With his background in the US Army and multiple Camel Trophy victories, including a remarkable East-West 4WD crossing of Borneo, Ken's expertise is unparalleled. He's worked extensively with Land Rover as a trainer and course designer and boasts countless adventures navigating the Baja deserts. He's even been sought after to train desert racers taking on iconic challenges like Dakar and Baja.

But the lineup doesn't end there. Our instructors are a formidable crew of off-road veterans. Webb Arnold, known as "Webb," boasts over three decades of off-road experience, including his daring Camel Trophy expedition in Tanzania and Burundi back in '91. Charles Henderickson is a seasoned fabricator and vehicle designer with an impressive track record of building and racing cars in Baja. And let's not forget Greg Walton, a retired FBI Special Agent and US Army combat veteran, whose desert navigation and survival skills are unmatched. These instructors are the real deal, handpicked by special forces teams to teach them the art of driving in the harshest, most unforgiving locations on the planet.

Leaving behind the comforts of paved roads, we delved deep into Moab's heart, where only the most challenging trails, daunting inclines, and unforgiving obstacles awaited us. The old Land Rover Discovery may lack the cutting-edge suspension system and intelligent terrain response of a modern off-roader, but that's precisely the point. Special forces operators rarely encounter such luxuries in the field, so we honed our skills, mastering left-foot braking techniques and employing precise maneuvers to conquer each challenge.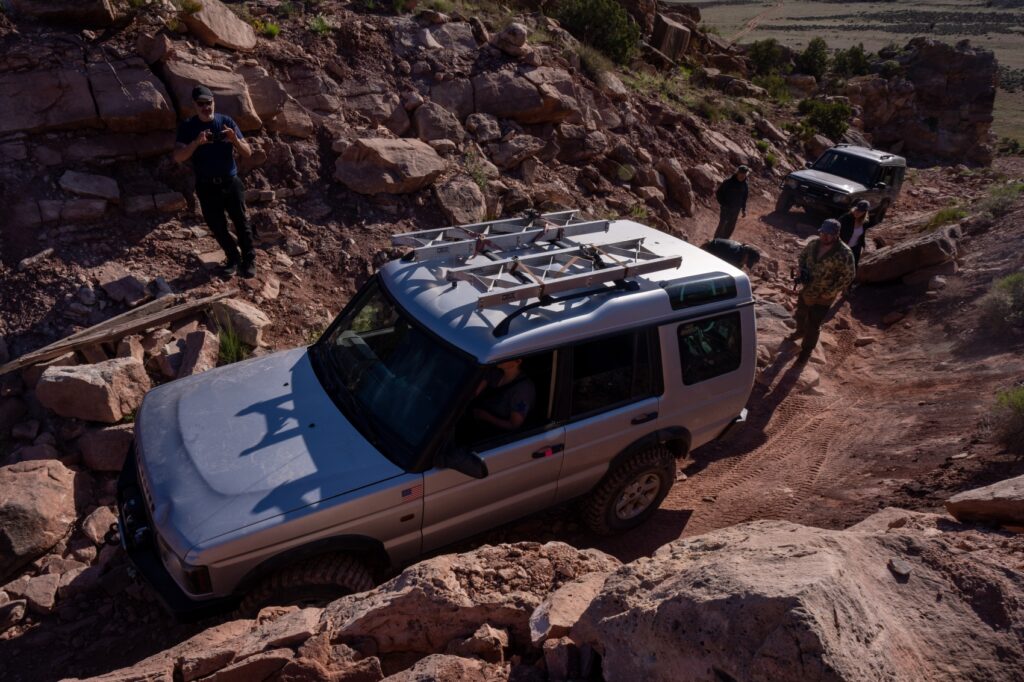 As we maneuvered through narrow canyons and conquered seemingly insurmountable rock faces, our instructors shared invaluable techniques for navigating obstacles, imparted wisdom on maintaining control in adverse conditions, and emphasized the criticality of positioning your vehicle to make the next move on the trail. In these treacherous environments, preserving your vehicle is paramount. Even in a well-trodden place like Moab, a single misstep could mean the difference between making it out of the canyon or being left stranded. Day one served as an introduction, allowing us to acclimate ourselves to the vehicles and the training. As we rolled into our first base camp, we may have felt a surge of confidence, thinking we were already skilled enough to take on anything thrown our way. Little did we know that our second day would push us to our limits with even more rigorous adventures. We were warned to have our gloves ready because the next morning, the winches would come into play.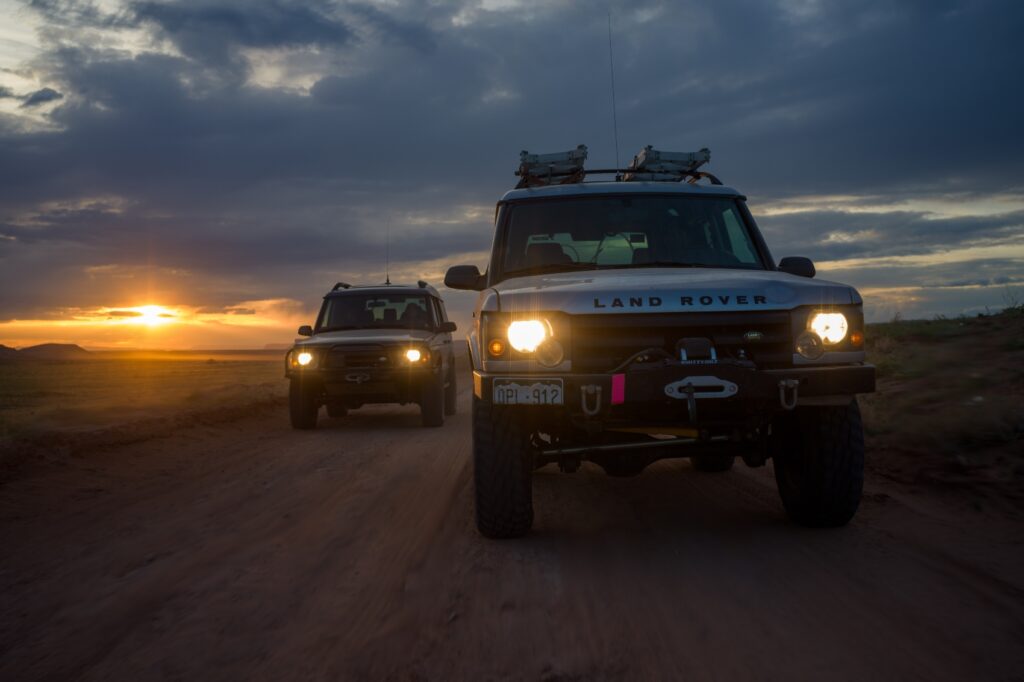 On day two, we switched to different vehicles and instructors. My driving partner and I found ourselves behind the wheel of a Range Rover Sport, which surprised me with its capability. With just a two-inch lift and off-road tires, it effortlessly kept pace with the Discovery from the previous day. We headed towards a trail where we knew the winch would be necessary. The instructors allowed some of us to attempt the incline without the winch, demonstrating exactly why we'd rely on this essential tool. It all boiled down to vehicle preservation. With the winch controller in one hand and the steering wheel in the other, each driver skillfully conquered the obstacle without incident. Throughout the day, we learned various winching techniques, including driving horizontally across steep inclines using a sling through the vehicle's rolled-down windows. Trust in our equipment and the team became paramount if we were to navigate these extreme terrains successfully. Our reward awaited us—a lunch of burritos warmed on the exhaust manifolds—overlooking breathtaking a vista thousands of feet above the Colorado River.

As our final day arrived, we embarked on less taxing trails, honing our winching skills even further. Soon, the time came to bid farewell to the rugged beauty of Moab and return to the familiarity of paved roads, catching our flights out of Grand Junction. Over those three unforgettable days with CAM Mobility, I absorbed more knowledge about off-road driving than I had in years of previous experience.

CAM Mobility's new Civilian Program breaks away from the traditional adventure vacation mold. Each trip is tailored to the guest's preferences. You can choose your location, be it the desert landscapes of the American Southwest or the lush jungles of Costa Rica. Whether you bring your own prepared vehicle or opt to drive one from the CAM Mobility fleet, the experience is customizable. You can even request the luxuries of the posh base camp we had the privilege to enjoy or embrace a more rugged, stripped-down adventure. No matter your choice, you'll leave as a skilled off-road driver, ready to fearlessly navigate any environment.

As I boarded my flight back to Texas, bidding farewell to Moab, I couldn't shake the thought of acquiring another old Land Rover Discovery and spending all my free time exploring. I knew my fellow students shared the same sentiment. Although our Moab journey had come to an end, the memories and lessons we gained would forever remain with us. We had acquired new skills and used them to venture into places most Americans will never have the chance to witness.

So, if you're seeking an extraordinary off-road adventure, one that pushes your limits and transforms you into a capable driver, look no further than CAM Mobility. Prepare to immerse yourself in breathtaking landscapes, overcome extreme challenges, and emerge as a master of the off-road realm. It's an experience that will leave an indelible mark on your soul, and you'll emerge with the confidence to conquer any path that lies before you.
Photos by Eric Adams