The Land Rover Defender, a name synonymous with rugged adventure and nonconformist flair. The Defender 110, a true workhorse of a vehicle, boasts four doors and a sturdy frame that can withstand anything the road or the wild can throw at it. The two-door 90 is a shorter, more compact version of the Defender, but don't let its size fool you. The Defender 90, by far my favorite of the new Defenders has more charm and grit than a pistol-packing rodeo queen. But for those who don't believe in prophylactics, the Defender 130 has arrived, stretched out to accommodate those extra passengers in a third row.
Unlike the 90 and 110, the 130 doesn't get a turbocharged four-cylinder or a throaty V8, instead, buyers can select from two 3-liter six-cylinders, the 296-hp P300 and the 395-hp P400. Also wiped away from the option list is the base trim level, which means no steel wheels or front bench seat, meaning the cheapest 8-passenger Defender starts at $68,000. But don't worry, they have plenty of options left to choose from, so many in fact, that you can spec out a base model Defender 130 with over $25,000 in optional extras, meaning you can spend $94,485 and still not even get the larger engine. The top-of-the-line Defender X fully loaded can set you back $119,970, gone is the classless people's car built for the farm and battlefield.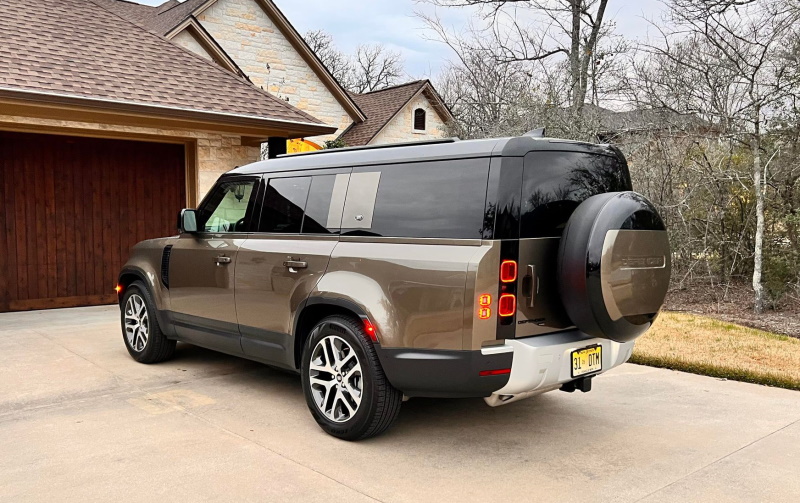 The design team at Land Rover has managed to balance the delicate art of modernization with the raw, untamed spirit of the original, which they nailed with the Defender 90 and 110. Both embody the athletic aesthetic that made the Defender an icon worthy of being revived, but when you add an extra 13.3 inches to the mix, things get a little dicey. That extra length didn't come through any addition to the wheelbase as the name suggests, it all went to the massive rear overhang is just begging to be tested in the rough and tumble world of off-roading. So, if you try to follow a Defender 90 down the trail, plan on doing some unscheduled bodywork.
I had just returned from Las Vegas, so my time in the Defender 130 was short, but I was able to take it for a spin in its natural environment. No not the off-road trails of Mt Bromo or the sweeping dunes of Glamis, but from the Country Club to Starbucks and then on to a country store. It is, of course, brilliant to drive, attracts a lot of attention, and is well made, but it feels like any other midsize SUV… just in a Defender costume. While it is built to haul a lot of kids, you better order the roof rack if you plan on packing anything more than their school lunches. Also, it would be prudent to spread out your brood enough that as the older ones go off to college those in the third row can graduate to the middle because despite what they call "8 full-size seats" jamming three teenagers in that back seat might get you a visit from Child Protective Services.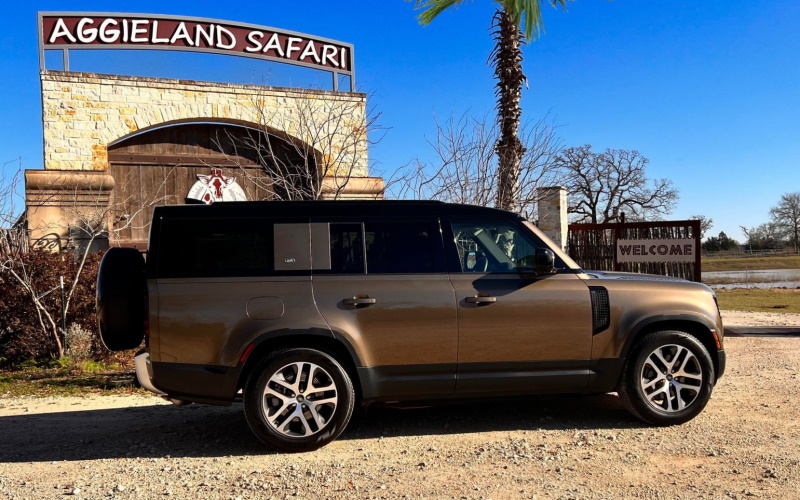 For a family of five, the Defender 130 does provide the extra cargo room you will need for any actual road trip or camping, inside is a nice place to be, practically laid out with endless storage cubbies. It looks the part of rugged, off-road capable, and it has the prestige of the Land Rover badge. But for me, the Defender 90 with Steel Wheels and a bench seat is as close to Defender purity as we can get these days. As a buyer, it is hard to make the case on paper for a Defender 130 compared to the 8-passenger GMC Yukon Denali 4WD with the 3-liter diesel, fully loaded comes in at $21,000 less than a maxed-out Defender X. But Land Rover is hoping that the Defender will strike a romantic chord for buyers who want to feel adventurous if you are looking for a little safari on your way to Starbucks, the 130 might be right for you.